From HMS Conway to Conway Centres
May 6th marks the day the Duke of Edinburgh, HRH Prince Philip officially opened Conway Centres. Formerly known as HMS Conway, the site based on Plas Newydd now welcomes children to enjoy a residential full of real-life outdoor and immersive arts activities. But the centre has so much history…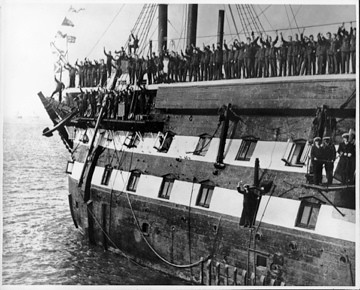 HMS Conway
After the demand had grown for merchant navy officers in the 19th Century, the Mercantile Marine Service Association was created. The association, which was founded by ship owners, set up the first school ship in Liverpool. The school ship trained young people to become navy officers, ready for their time at sea.
In 1859, the official HMS Conway school ship opened and could accommodate up to 120 cadets. They soon realised that the ship was too small for their needs and in total there were 3 HMS Conways built to accommodate the cadets.
During its time on the Mersey, HMS Conway and the cadets won various royal awards, including £50 from the Queen's Gold Medal which was presented by HRH The Duke of Edinburgh in 1866 and the King's Gold Medal which was presented by King Edward VII at the Liverpool Town Hall in 1931.
During World War II, parachute mines were being dropped in the River Mersey and small bombs were landing on the ship. As the bombings became more intense, they believed a mine was underneath the ship. This meant the ship was evacuated with cadets being housed locally at Conway House, The Royal Mersey Yacht Club and Royal Rock Hotel. It was then decided HMS Conway would need to be moved somewhere safer…
Photo credit/source: HMSConway.org | Alfie Conway | https://www.flickr.com/photos/63116718@N06/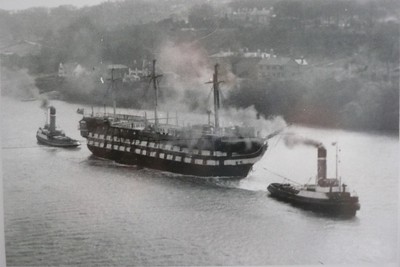 From Merseyside to Menai Strait
After the ship was abandoned, it was decided the cadet training would need to be carried out in quieter, safer and more peaceful surroundings. The Conway Committee made the decision that HMS Conway would be moved to the Menai Strait, Anglesey. HMS Conway left Liverpool on May 21st 1941 and arrived at Anglesey the next day. As HMS Conway had been docked for 65 years, the ship was towed to North Wales.
Photo credit/source: HMSConway.org | Alfie Conway | https://www.flickr.com/photos/63116718@N06/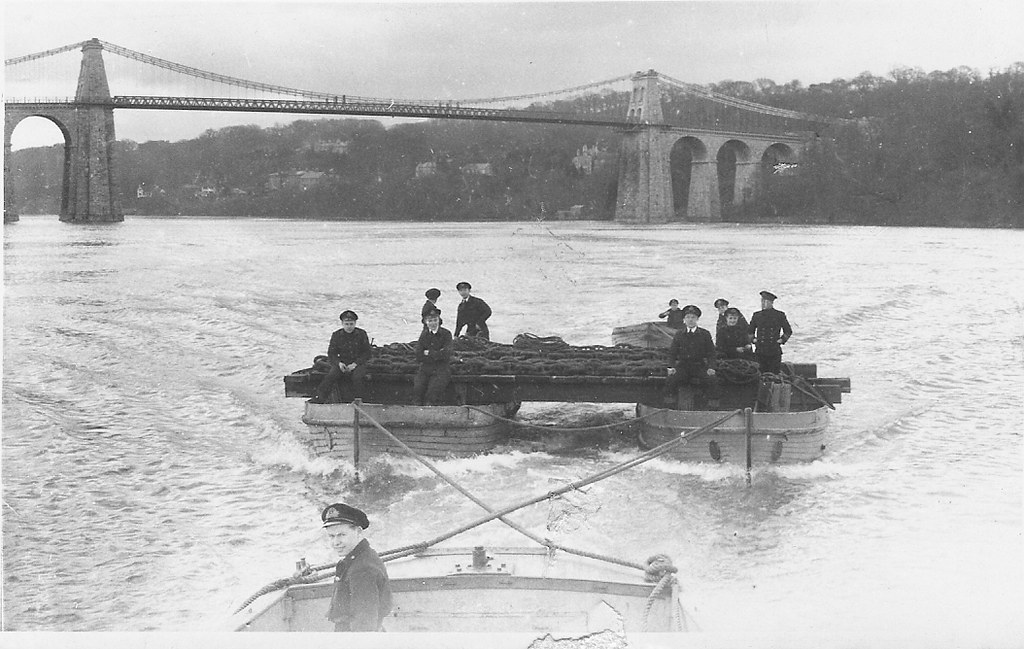 Sprawling grounds for training and activities
Moving to Anglesey meant that there was more space for accommodation and sports. Plas Newydd had dormitories which housed junior cadets for their first term. The accommodation was officially named the Nelson Block.
During their time in Wales, the sea cadets enjoyed activities such as; Mountaineering up the local Snowdonian mountains, Film nights in the hold and taking part in the Conway Snowdon Scout Group where they aimed towards achieving their Snowdon badge.
Photo credit/source: HMSConway.org | Alfie Conway | https://www.flickr.com/photos/63116718@N06/

Opening by Duke of Edinburgh
In 1962, after the loss of HMS Conway which headed back to Merseyside for restorative maintenance, a camp was set up on Plas Newydd with tents and huts to allow time for building a new block.
On 6th May 1964, the block was officially opened by HRH Prince Philip. The new block included more accommodation, classrooms, a hall, staff rooms and the captain quarters.
HMS Conway Archive suggests sea cadets enjoyed the new block much more than the ship "No doubt the New Block was a softer touch than the Camp, which I am sure was the case when the ship was lost and the camp created, but the facilities were so much better and if I remember anything much about that term was how good it was."
The training school remained open for 10 years and officially closed in 1974.
Photo credit/source: HMSConway.org | Alfie Conway | https://www.flickr.com/photos/63116718@N06/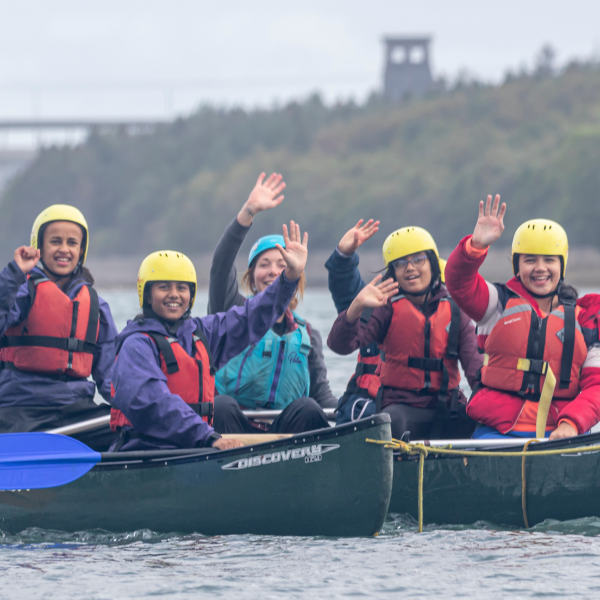 The Conway Centres
And that's how we got here! What was once HMS Conway training school is now known as Conway Centres, which is an outdoor education centre where children and young people enjoy adventurous outdoor activities, immersive arts sessions, and exam support courses.
The private dock which was formerly used for seamanship and small boat handling and training is now used for Canoeing, Kayaking, Stand-Up Paddle boarding and Raft building sessions.
The classrooms which were formerly used for training the sea cadets are now used for Art, Dance, Drama, Music or Revision support.
The hall which was previously used for assemblies and talks is now used for children and young people to enjoy delicious and nutritious meals. The stage is also used to support performances.
The sprawling grounds which were used for training and sports are now used for Outdoor Adventure activities such as; Zip Wire, Via Feratta, Mountain Biking, Mine Exploration and much more!
Need help planning your next adventure ?
Get in touch with a member of our team who will help you build an incredible new adventure!
Get in Touch
01248 714501
or send us an enquiry
Get in Touch