Meet Jon Gamon!
Based at: Anglesey centre
Job role: Senior Outdoor Tutor
Favourite part of the day: Introducing young people to new experiences in the great outdoors.
Proudest moment: Setting up the SEAS Sailability at Conway Centres. This group enables disabled people from across North Wales to have memorable adventures out on the water.
Up bright and early... 
My day generally starts at about 06.30am. I'm not a breakfast person but navigating the tides in a kayak or supporting children up the zipline means my role can be quite physically demanding and without it I have been known to get a little bit hangry by 11am… porridge or peanut butter & jam on toast normally does the trick and of course followed by coffee. A good dose of caffeine is definitely the most essential part of my morning routine!
I leave the house before 8am to get to our Anglesey centre for 08.15am, I like to get in early and get a feel for the day ahead. I teach a large range of activities from sailing on our private dock on the Menai Strait to gorge scrambling which tackles some of the most spectacular environments in Snowdonia. With the wide variety of activities available at Conway Centres, no two days are ever the same – which is certainly one of the things I love most about my job.

At 08:45am the outdoor team have a meeting ahead of the day. As a team we discuss how the children & young people from the school or group are doing and if we feel there are any changes we need to make to the day (how well the group slept the night before can turn the programme of planned activities on its head!). We are all passionate about ensuring each group gets the best experience possible, so there can be a fair bit of negotiating…


This morning's adventure started with Raft Building, followed by Abseiling in the afternoon and then an evening with an open fire.

Morning Activity
I went to meet my group at 9am where I tell them about all of the exciting experiences they have planned for the day! We always run through where we are going, what they will be doing and what to wear. Once my group had time to get ready, we met up at 09:30am, near the equipment store to start the day's adventure.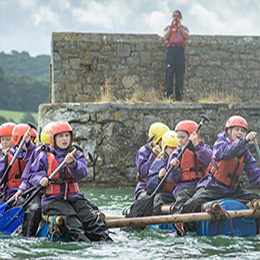 Raft Building
Once everyone was ready and all the safety talks were had, we made our way down to the Menai Strait. Raft building is all about students working together to devise a plan where they build their raft out of various equipment, including barrels, poles and ropes. The aim is to build a well-structured raft that floats which enables them to paddle around a challenge set for them on our private dock. Whilst taking part in the activity children and young people used practical skills which link to the curriculum such as science and technology learning to create their raft, which stayed afloat! The children had a great time working together in their teams… whilst enjoying a bit of healthy competition with their peers of course!
Lunch time followed by the afternoon activity...
We then headed back to the dining hall at about 12:30 where I had lunch with my group, and we got ready for our next activity which was abseiling!
Abseiling
For the abseiling activity we had a 1.4km walk through the vast woodlands and along the shore of the Menai Strait which brought us to the disused quarry. At the quarry we have a purpose-built abseil down the rock face. Abseiling requires determination and courage for children to trust themselves, our centre staff and the equipment whilst they lower themselves down a vertical rock face. Abseiling is a perfect activity for children and young people to learn how to cope with and manage anxiety and scary situations, in a safe and supportive environment. Students take responsibility as they control their own abseil rope. The students learnt about the importance and satisfaction of being able to help and encourage their peers, whilst developing their own confidence. We had a few wobbles but the team were so supported of each other.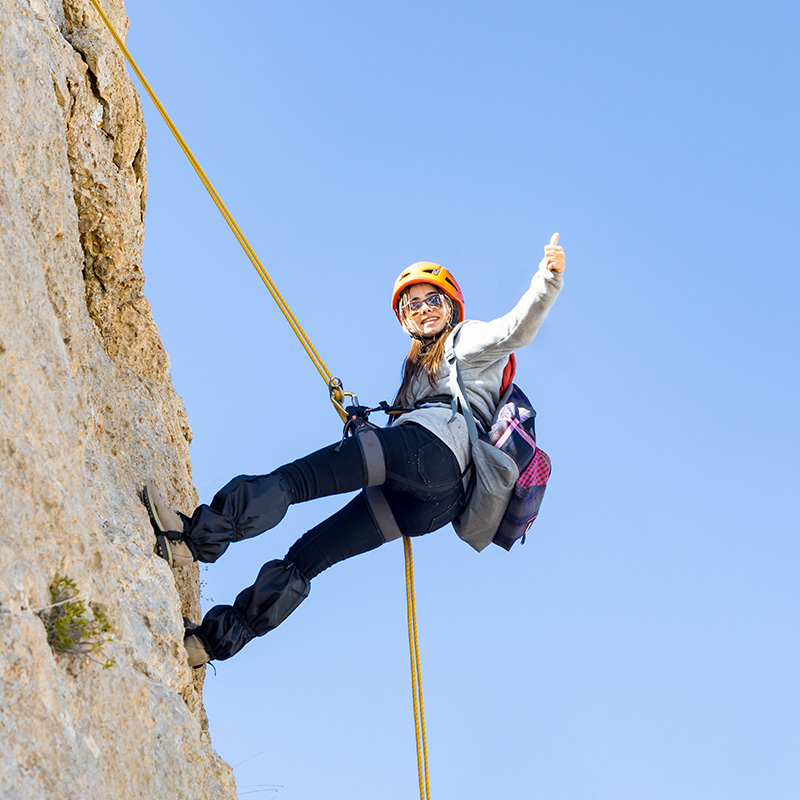 Time to head back...
By 4:30PM we headed back to the equipment stores where they de-kit and I prepare them for their evening of open fire and for their next day. My three biggest tips for children & young people are usually along the lines of; 'sleep well, eat well and of course look after your teachers!'.
To finish off the day I headed back to the staff briefing room where I signed my group back in and brief Matt, who is our Outdoor Education and Safety Manager, about any notable events - making sure everyone is safe is paramount at Conway Centres.
The children and young people then go for their tea. In the evening they will head down to the open fire pit and set up a fire where they reflect on their day, play some games, set a challenge and toast marshmallows on the fire.
I then head back home where I start thinking about the following day, ready to see what adventure awaits tomorrow…    
Need help planning your next adventure ?
Get in touch with a member of our team who will help you build an incredible new adventure!
Get in Touch
01248 714501
or send us an enquiry
Get in Touch